Testimonials
Letters from some of our Clients:
SuddenlySlenderInc.com:
April 12th, 2012
To Whom it May Concern:
Peter Diamond is most highly commended and recommended!
My corporation has had YEARS of being overcharged and underserviced. Many of our past so called Webmasters actually learned their trade on our dime! The upshot of all this is, is that Peter stepped in and methodically and affordably corrected ALL the accumulated errors on our websites and our on line store (he actually made it possible to buy something from us) and is currently upgrading our sites and is bringing more traffic to them.
This may seem the kind of thing you expect from a web expert but its not what you usually get! Not even close.
I would highly recommend Peter to anyone who wants a pleasant, intelligent, highly trained expert to eliminate the crazy problems the half skilled create. NO KIDDING! What a relief!
If you aren't thrilled with your current web expert give Peter a call and see what real service is.
Thanks, Peter
Kind Regards, Victoria Morton - President/Inventor - Suddenly Slender International, Inc.
Take a look at our website and see what you think, better yet go to our web store and buy something! LOL!
It's www.suddenlyslenderinc.com See how easy Peter has made it.
GreatCircle Studios, LLC
Recommendation for Peter Diamond
November 7, 2011
Peter did some work for us on a legacy Microsoft C# .NET project. It is often very difficult as a developer to walk into a set of old code done by some other developer and to figure it out and make changes and edits. Peter tackled the project with professionalism and good humor. Not only did he code the changes that were needed, he uncovered a number of issues with how the code was originally written and took care of those as well.
Peter did a high-quality job for us on this project and went the extra mile to help us bring this project in under budget. He assisted in the migration of the code to the production server and in taking care of the post-deployment bugs that typically crop up with this kind of application.
I can recommend Peter without hesitation to anyone needing a professional, competent developer. We will definitely be using him again!
John Stanard
Chief Technology Officer
GreatCircle Studios, LLC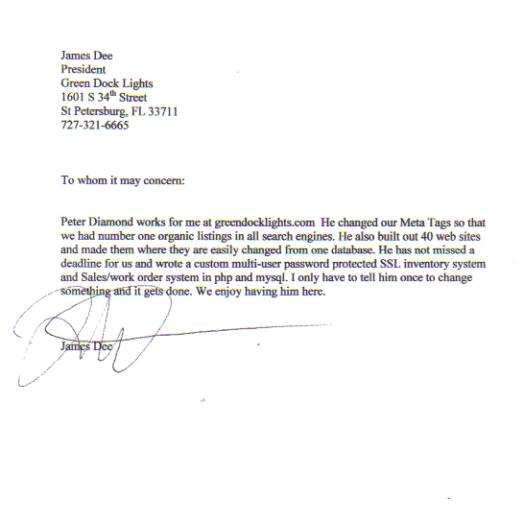 6/30/2010
Owner
C&M Marine Products, Inc.
101 Temptation Lane
Lake Placid, FL 33852
Dear Peter
I want to take this opportunity to thank you for the tremendous job you are doing to get our website updated. We have been through several people who had worked on the site; none can come close to what you have done for us. You have done everything you said you would do AND in a timely manner. Our last person it would take him a month to make minor changes to the site and that was with me calling him and reminding him. We had also contacted several people to look at our site and see if they could work with us on getting it updated; they had said that the way the site was designed they could not make any changes to it for us. You were the only one who said they could do it.
I also want to thank you for working with us to try and get us higher on the search engines; your knowledge regarding this has really helped. As we all know it is important to be up high to get the visibility that we need for our company to grow and we are achieving that goal with your help.
Again, I cannot say enough about how pleased we are with your services. Your professionalism, knowledge and service are to be commended. Everything that you said you would do for us, you did and more.
Thank you again, if you every need to use us as a reference please feel free to give out my information.
Sincerely,
Owner
Christine Winlsow
C&M Marine Products, Inc.